Understanding what makes an effective mobile RFID asset tracking system can be very complicated. There are many different types of asset tracking systems out there:
Check out the Advantages and Disadvantages of the different types of asset tracking.
The list can go on and on and some asset tracking systems and software can use a combination of all the above.
Today, we are going to cover the basics of a mobile RFID asset tracking system.
But first, we need to answer the age-old question….
Why is an asset tracking system important?
Every business needs to understand what assets they have purchased, where their assets are, and what the status of their assets are in.  Many businesses are constantly searching for assets or losing assets which results in wasted productivity, duplicate purchases, and unnecessary purchasing that increases costs.  Your goal is to get the most out of each asset you purchase. 
What is a Mobile RFID Asset Tracking System?
A mobile RFID solution uses a handheld device to scan or capture the RFID tag data. Examples of a Bluetooth RFID handheld device are shown below: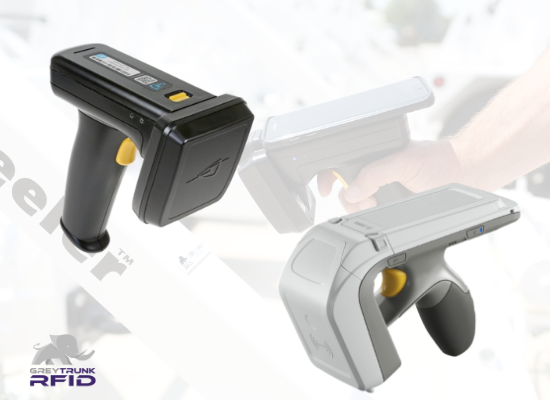 These handheld devices have an antenna attached to them that communicates with the RFID tag to receive the data via radio waves. Hence, Radio Frequency Identification (RFID) 😊. That data is then interpreted by the software to make sense of the data and display it in a visually appealing way on your mobile device or computer screen.
One thing that makes a mobile RFID asset tracking system unique is that the RFID handheld device can connect via Bluetooth through your software provider's mobile application available on either the Google Play Store or Apple App Store.
Picture this….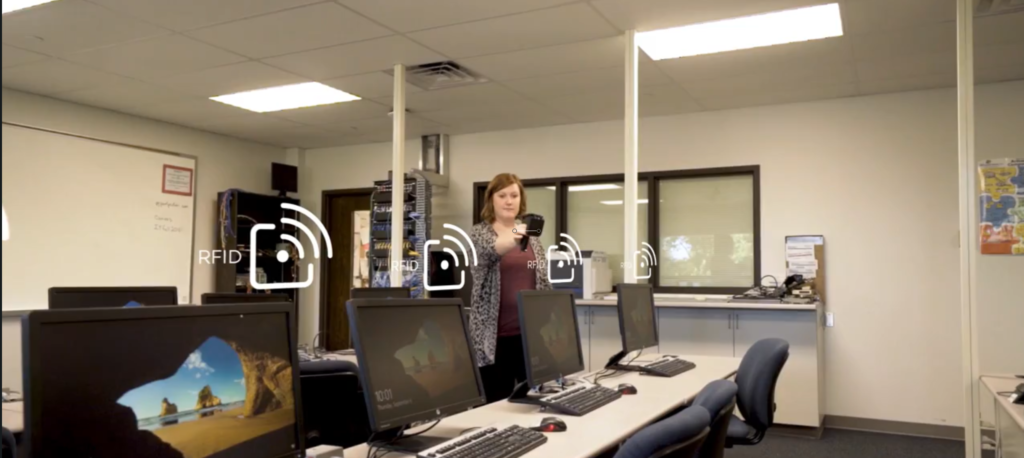 You walk into a room or building to take inventory of your fixed assets.
You connect your RFID handheld device to your Grey Trunk RFID mobile application via Bluetooth.
You select where you are doing the inventory audit.
You pull the trigger of the RFID scanner.
You're done with inventory in a matter of seconds or minutes!
Now, let's get into the details of how we can get to that picture we just painted above.
The Anatomy of an Effective RFID Asset Tracking System:
Here are the main components of RFID asset tracking. You need to have all three for an entire mobile RFID solution.
Bluetooth RFID Handheld Readers
RFID Tags
Mobile Apps for Android or iOS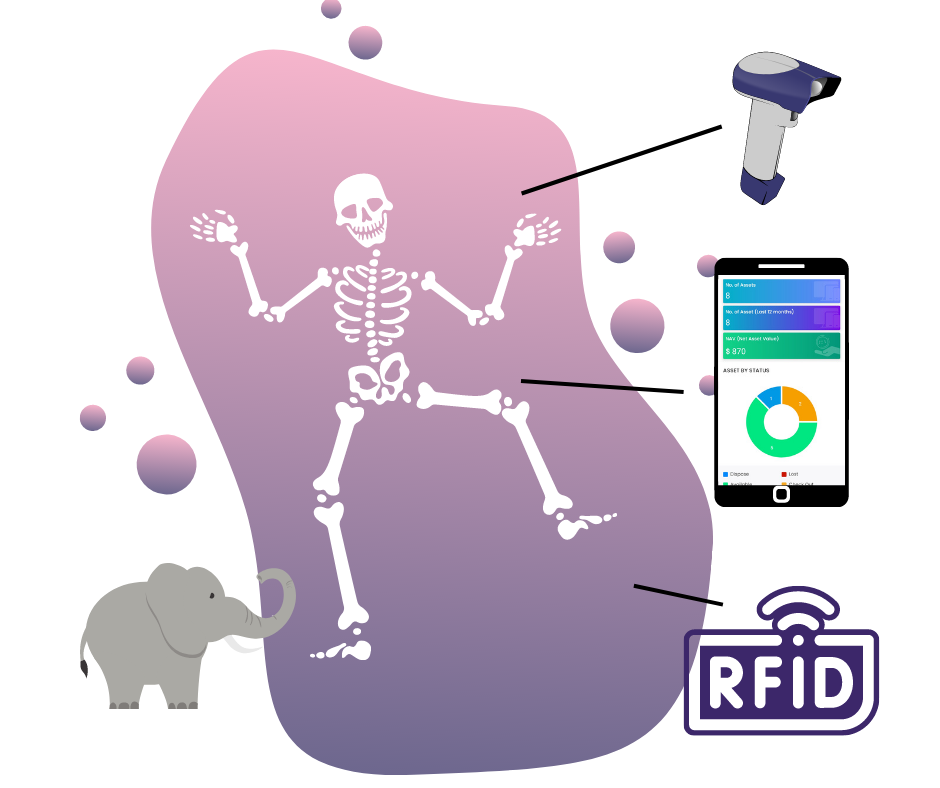 Bluetooth RFID Handheld Readers
These readers will connect to your mobile device via Bluetooth which makes this an economical option for RFID asset tracking. Because a Bluetooth RFID reader is not a computer and does not have an operating system, they are much more economical.
Here are a few of the most popular brands and models we recommend:
RFID Tags for Asset Tracking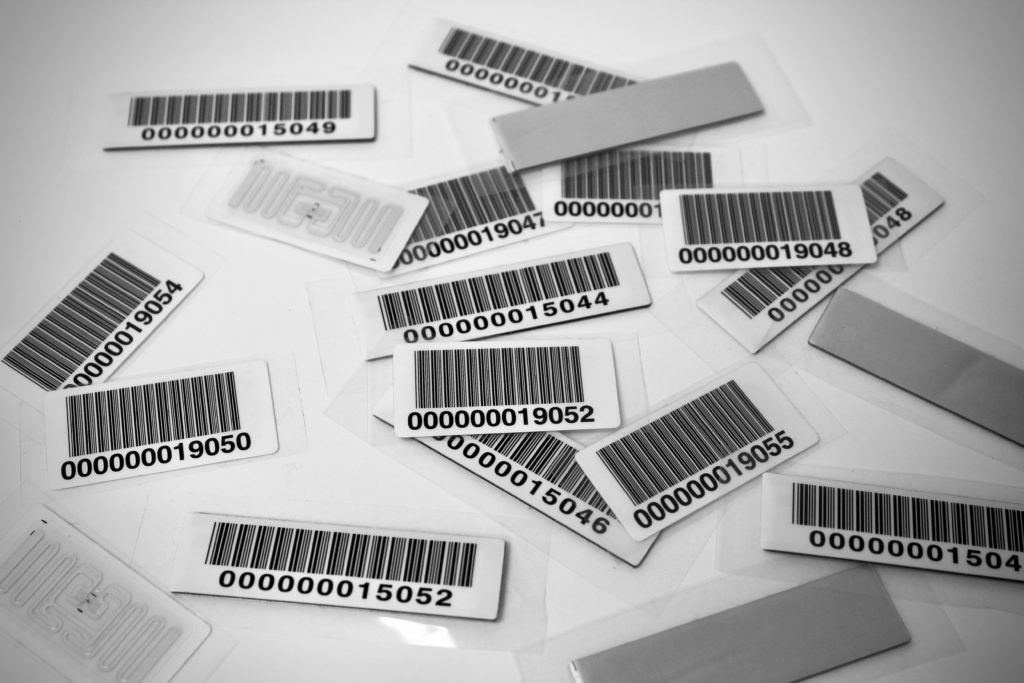 One of the most important and often overlooked components of an asset tracking solution is the RFID tag. The RFID tag has a lot of critical questions to be answered to determine the best tag for your project. Ideally, you want to maximize read range given the amount of space you have to place and secure the RFID tag on your asset.
Some basic questions you will need to know to determine the proper RFID tag:
What is the surface (metal, plastic, wood, glass, etc.) I am applying the tag to?

FYI – Metal interferes with Radio Frequency so a special tag would be needed such as Metalcraft's Universal Mini.

Is there a size restriction for where you a placing the tag?
What read range are you looking to achieve?
Check out the many customizable RFID tag options at Metalcraft.
For a more in-depth look at choosing the proper RFID tag for your application, check out this article – What RFID Tag Should I Use in My Application
RFID Asset Tracking Mobile Apps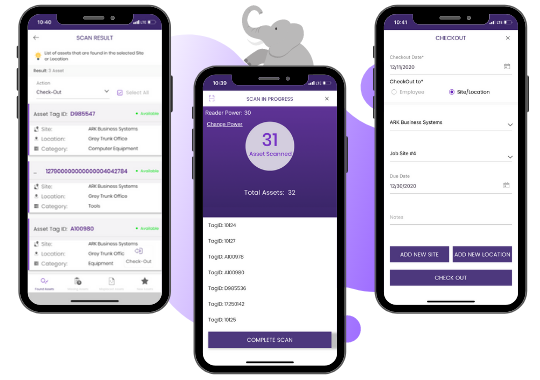 The days of the manual processes and spreadsheets are over for tracking your assets. Often, spreadsheets are inaccurate, extremely manual, and don't keep the entire team on the same page. Thankfully, the software has come a long way to help your organization have a more efficient way to track fixed assets and help you use data to make business decisions on your assets such as when to buy new assets or retire old assets.
A few things to look out for when choosing a mobile RFID asset tracking system:
Is there an asset tracking app that comes with the software?

Check out Grey Trunk's free asset tracking app for iOS or Android

How many users are supported? Do I need to pay extra for more seats?

TIP: Find software that supports unlimited users to make the most of your asset tracking project

Is the software capable of scanning barcodes and RFID?

Using your mobile device's camera to scan barcodes is great, but can it scan RFID as well? Find a software that is capable of both.

What kind of reporting is available?

Reports are extremely important so you can make informed business decisions.

Is it a cloud-based solution?

Why? To keep everyone on the same page and keep asset info accurate. If somebody in the field changes info about an asset, it will update the entire database for everyone in the organization.
Conclusion
It has never been easier or more economical to get a mobile RFID asset tracking solution implemented for your business. Using RFID technology will help you save time and money by making your asset inventories more efficient and help you reduce lost equipment.
If you missed it, check out the 5 Benefits of RFID Asset Tracking to get a more in depth understanding.
Check out www.greytrunkrfid.com for more info.
Schedule your free 30 minute demo here. And yes, it's with a real person 🙂
Related Articles: