RFID can be a confusing technology but we are going to explain how RFID based asset tracking works in the simplest of terms. When researching RFID, it is easy to become overwhelmed with all the technical jargon associated with it. However, in this article, we will break it down and help you understand just how simple it is to deploy an RFID asset tracking system throughout your organization to manage fixed assets.
Types of RFID
First, we need to get a better understanding of the different types of RFID. We will be discussing UHF RFID in this article but will provide a breakdown of some different types.
Passive RFID

Passive RFID is a form of RFID that does not require the RFID to have a battery, instead, the chip on the RFID tag is powered by the reader itself. You will often hear of "read range" when discussing passive RFID since the chip has to be within range of the reader to capture tag data. There are two main types of Passive RFID we will discuss:
UHF RFID
UHF, or Ultra High Frequency, is the type of RFID used mainly in fixed asset tracking because of two main factors:
Cost of the RFID Tag
Read Range
The cost of the RFID is economical compared to other RFID tags, specifically ones that are battery powered, simply because you do not have the extra costs of a battery. And, you won't have to replace the battery using a UHF RFID tag.
HF RFID
HF, or High Frequency, is similar to the UHF RFID because it does not require a battery. Because of the frequency in how these tags are programmed, the read range is extremely small.
HF RFID is not recommended for asset tracking. Because you need to be within inches of the tag to capture the tag data with a reader, it does not make sense to use HF RFID when a barcode would be just as efficient.
If you have ever used a badge or card to tap at a door entry to enable access or unlock the door, this is a form of HF RFID.
Active RFID

Active RFID is a type of RFID that uses a battery to power the tag. Using a battery in the RFID tags allows the tag to consistently transmit a signal. One of the main advantages of Active RFID is the increased read range. Active RFID is widely used for Real-Time location tracking systems because you are able to pinpoint the signal at any time due to the constant signal and expanded read range.
However, they are certainly drawbacks. Mainly, the cost of these tags is expensive due to the increased costs associated with the batteries. Also, since these tags are powered by a battery, they will eventually lose power and you will be forced to replace them.
Active RFID is not commonly used in a generic fixed asset tracking application. You can find Active RFID tags when needing to track important and valuable pieces of equipment such as military equipment.
RFID Based Asset Tracking with Mobile Device
Now that you have a better understanding of the types of RFID, we will guide you through a simple asset tracking solution using passive UHF RFID, which is the most common.
Here are 4 Steps to Implement RFID Based Asset Tracking:
Apply RFID Tags
Add Assets to Asset Tracking Software
Perform Inventory Audits using RFID
Apply RFID Tags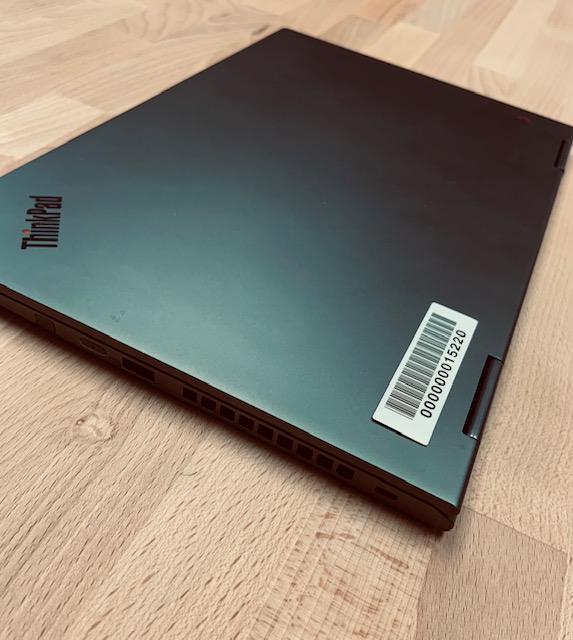 First, you need to determine the best RFID tag for your application. Metalcraft is a manufacturer of high quality, Made in the USA, RFID tags. Be sure to check them out. Determining an RFID is often the most important part of any RFID asset tracking system.
Once you determine the proper tag, applying the tags will be the next step. It is extremely important to clean the surface of the asset before you apply the tag. A clean surface allows the adhesive to make a bond to the surface, greatly reducing the chance of the tag falling off.
Add Assets to Asset Tracking Software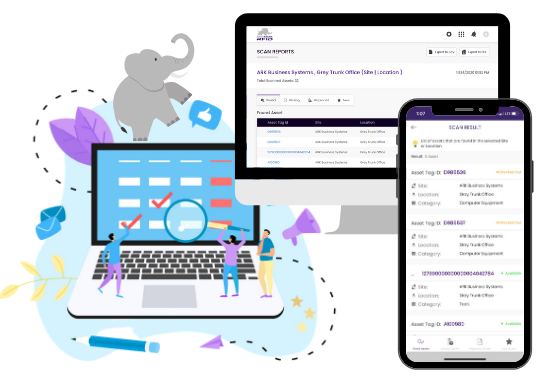 As you are applying the RFID tags to the assets, it is wise to add them to your database so there is no confusion about what tag belongs to which asset.
The asset tracking software you choose will be the database that stores all of your asset information. The RFID tag will have a unique number on it which acts as the "license plate" for that asset. When you scan the "license plate" or unique tag ID, all the information associated with the unique asset tag ID will populate, just like when the police scan the license plate on a vehicle.
When adding assets, it is important to choose a site and location that will act as the home base for the asset. The site and location tell us where the asset is supposed to be located when we perform an inventory audit.
Download RFID Mobile App and Connect Bluetooth RFID Reader
Utilizing cloud base asset tracking software will be critical to your overall asset management success. Cloud-based software allows you to access your asset database from anywhere with a data or internet connection. Having an asset tracking app on your mobile device gives you and your entire team the flexibility to perform scans and access asset information from anywhere while keeping all the information up to date.
Once you download an asset tracking app, you will then connect a Bluetooth handheld RFID reader to your mobile device. Just like connecting wireless headphones or a wireless speaker to your phone, the Bluetooth handheld reader uses the same technology. The video below will help you understand the different types of Bluetooth readers and show you how to connect and perform an RFID scan.
Perform Inventory Audits with RFID
Now we get to the fun part, the scanning of the RFID tags! Using your asset tracking app, you will choose the Site and Location where you are planning to perform an inventory audit. With a simple pull of your RFID reader's trigger, you will immediately see the benefits and efficiency of using RFID to track and manage fixed assets. Within seconds, you will capture the RFID tag data and the software will generate an audit that shows:
Found Assets
Missing Assets
Misplaced Assets
New Assets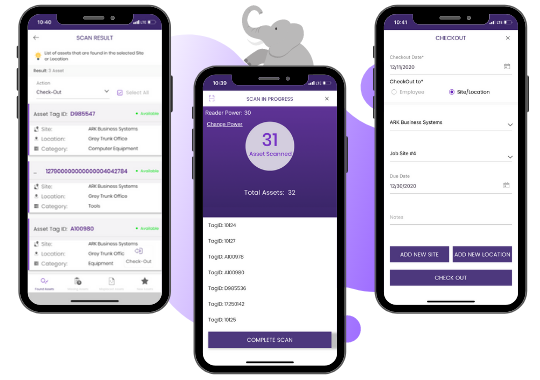 To start your 30 Day Free Trial, visit www.greytrunkrfid.com to create your account today.

Want to see a demo? Schedule one with us today.
If you want to see an overview of how an asset management system could work, check out this video.
Related Articles: