Fixed Asset Tracking and Management software comes in all shapes and sizes. Is there truly a "One Size Fits All" system out there to help manage and track your fixed assets? "Out of the digital box" is a term commonly used in software development meaning that the product developed will work for all industries, every customer, and every business.
But is this truly the case? Even "out of the digital box" solutions often need tweaks and adjustments for you to really be able to use them. Over time these tweaks and other adjustments can really add up – either expense-wise or time-wise as you come up with workarounds to get it to work like you need it to. Wouldn't it be better if you could tailor the workflows and verbiage of the software to mimic your business?
Many businesses are turning to custom asset tracking and management software solutions. These solutions are designed to meet the specific requirements of the business to ensure every asset or item is inventoried and accounted for.
When it comes to asset management and tracking, no piece of technology is more critical than the software. Auto-ID technology helps you manage your assets like never before. However, collecting the data is one thing, but displaying the data and providing your team with usable workflows is another. That is where custom software comes into play.

Benefits of Custom Asset Management Software include:
Efficiency in managing your assets or inventory
Improved Productivity
Reduction in lost and duplicate purchases
Chain of custody and accountability
Big Data Decisions on Assets
Companies wanting to maximize their asset purchases, increase visibility of assets, improve employee accountability, and make better decisions with data should start considering asset management software that fits their needs.
That is when you need to look at customization vs. customizing….
This white paper will help you determine if custom software is what you need, describe the building blocks of your custom mobile RFID project, and explain the benefits of custom software.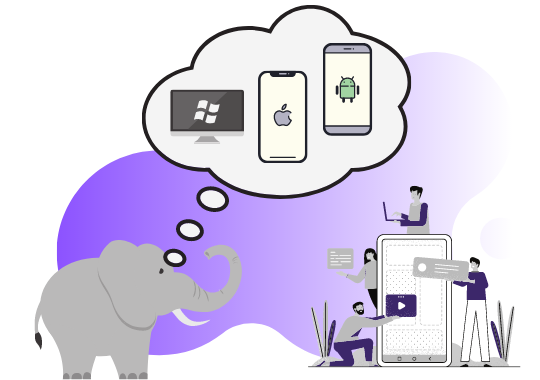 Determining your Need for Custom RFID software
Ask yourself one question: Will an "off the shelf"/"out of the digital box" product work for your needs?
Most likely there is software on the marketplace that can help with your asset tracking project, however, understand there are both advantages and disadvantages that come with off the shelf software.
Advantages:
Economical
Ready to launch immediately
Already proven by other users of the product, ie. fewer or no bugs
Disadvantages:
Challenging to get new features, specifically for your business
Too many "bells and whistles" that don't pertain to your business
Workflows don't meet your needs and cause confusion
Custom RFID software is often the best choice for a complex project because it provides the flexibility to add every key feature you need both now and in the future.
Whereas, an out-of-the-box solution might make the most sense for a more simple RFID project with only a couple thousands assets to track because it allows you to get software in place faster and get your business the quickest ROI.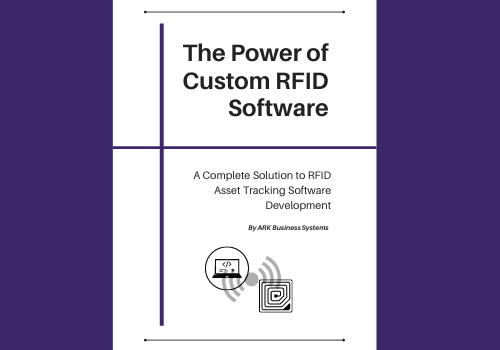 Building Blocks for your Custom Mobile RFID Project
There are 3 major components to start building your Custom Mobile RFID project:
Software – Mobile and Web Based Applications
Hardware – Reader
RFID Tags
Check out this article – The Anatomy of a Mobile RFID Asset Tracking System
Software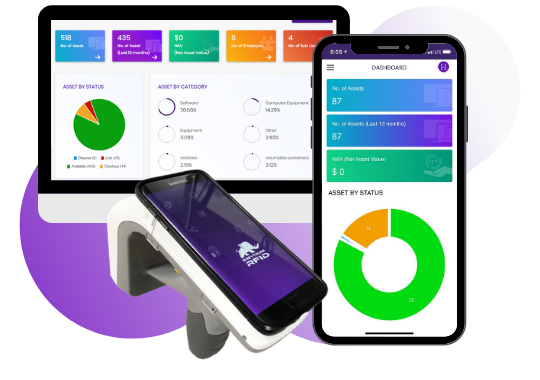 The software component is the most vital piece of the entire RFID solution. It allows you to display the data you collected in a meaningful and organized way.
Many out of the digital box solutions do not allow for modifications to the software for one specific customer because any change to the software will cause that same change for their entire user base. Asset tracking management is widespread across many different industries, so it is very challenging to find a one-size-fits-all solution for every industry.
Custom software allows you to build unique workflows that suit your business and industry. Once you collect the data, your custom software will give you the ability to manipulate and display the data in a way that makes sense for your business, saving you time and giving you better visibility of the assets that are most important to your business.
For example, one recent customer came to ARK Business Systems specifically looking for a simple and easy to use system where they could use their mobile device, a mobile app, and a handheld RFID reader to easily locate items throughout a medical system.
They had one specific objective for the software to complete – tell the user when they are close to the asset or piece of equipment that they are looking for. Because this was a medical facility, the ability to locate very important pieces of equipment quickly can literally be the difference between life and death. A simple software solution with streamlined workflows helped the customer immensely in this scenario.
RFID Tags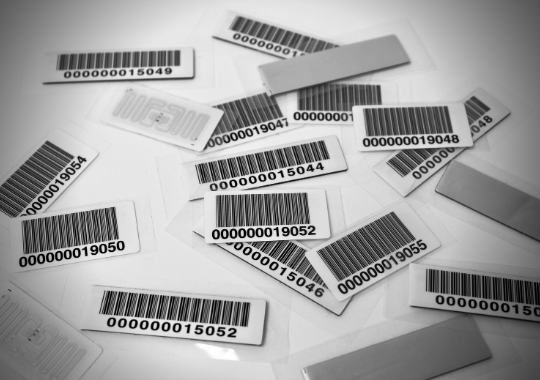 Every asset you are wanting to track and manage needs to have a unique identifier on it. This is done by applying an RFID tag to the asset. The RFID tag acts as a license plate for the asset. When that unique number is captured and entered into the software, it will have all the records, history, and fields associated to that unique number.
RFID tags come in many shapes and sizes. For this specific white paper, we will be speaking about Passive UHF RFID tags. These RFID tags are widely used for asset management applications because they do not need a battery to power the tag. Instead, the tags are powered by an external piece of hardware or antenna. Since the tags do not need a battery, they are far more economical and allow for a better return on your asset tracking investment.
You can determine the proper RFID tag for your project by answering the following questions:
What are you applying the tag to?
Is there a metal surface?
Do you have a size restriction?
What kind of exposure will the tags have? Chemicals, outdoor weather, UV, abrasion, etc..
Is the application surface flat or curved?
Remember, when choosing a Passive UHF RFID tag, the two main objectives are:
Maximizing read range
Ensuring the tag survives the life of the asset
The last thing you want to have happen is a tag to fall off, be destroyed, or applied to a wrong surface because you did not order the proper material, adhesive, or type of tag.
Hardware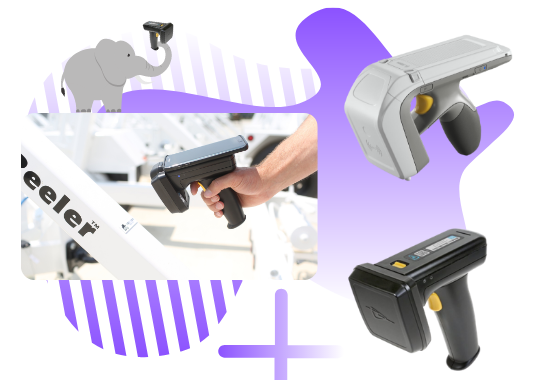 The final piece of your RFID project is the hardware. For this white paper, we are focusing on mobile RFID handheld readers. These devices allow you to connect to your mobile device via Bluetooth and an RFID application (could be custom) which then allows you to collect the encoded data from the RFID tag.
The handheld acts as both the antenna and reader which powers the RFID tag when it is within range of the tag. Once it collects the data, it transfers the data over to the mobile app (software) so it can begin interpreting the data and displaying it for the user.
Benefits of Custom Software
As we have previously stated, it is very difficult to find a one size fits all solution.
To ensure your asset tracking software fits your specific business, a custom approach might be the best solution. The design of your software is extremely important to your asset tracking project.
Benefits of custom software include:
Streamlined workflow developed for your business processes
Integration to other software your business is running on
Easily add new or enhance existing features
Streamlined Workflows
Developing an asset or inventory tracking system specifically for your company ensures it meets your needs. By streamlining your workflows, you may find several opportunities to optimize your current processes, ultimately resulting in higher productivity and faster ROI.
Because a custom software solution is tailored to your business's needs, you can strip out features that out of the box software might have that would have no effect on your business, thus resulting in an easy-to-use and efficient process for every employee using the software.
Integration
Off-the-shelf software can limit the number of integrations it has with other software programs. Consequently, it may not have an integration for an important piece of software that is critical to your business.
Custom asset tracking software gives you the ability to scale and offers you flexibility to ensure it can integrate with the software your business is currently running.
Adding New or Enhancing Features
With a custom software solution, the software that is developed is built specifically for your organization. Requesting a feature modification or addition will only affect your business compared to an out of the box software where a change to the product will affect the entire user base of the product.
Often, it is very difficult and requires a lot of time for an out of the box product to push new releases. The software company must consider many things, such as:
How will this affect our entire user base?
Is this feature improving the product for every user?
Also, do not forget that every software company before they make any changes to the product should ask for feedback from their users to get their thoughts and opinions. This will require a lot of time, thus delaying any feature enhancements.
With custom software, feature requests and enhancements can be moved quickly through development because they are only affecting your business. There are fewer hoops to jump through since it is your company's software.
Customizing not Custom – White Label Solutions
Sometimes building a custom software solution from the ground up is not the best option for your business. Often you can customize a proven software system by using the already built pieces and transforming it into your own software. This process is called White Labeling.
White Labeling involves taking an already existing software product and branding it as your own. This limits the amount of customization that can be done, but it does allow you to modify some aspects of the software (depending on the developers).
Here are some use cases for a White Label software:
Internal use – easy for your employees to recognize
Externally use for your customers as a value add service
Resale opportunity to end users / customers for profit
Benefits of White Label software:
Quick launch and implementation
Low development costs
Trusted software
Less risk
The ARK Advantage
Here at ARK Business Systems, we pride ourselves in offering a complete solution to your Asset Management and Tracking needs.
With our software development expertise, specifically around RFID and barcode data collection, we are confident we will be able to provide a solution that meets your needs, from minor customization or a completely custom software solution. Our team has years of asset management experience and have worked with a wide variety of industries, so we have seen or heard it all.
Here is what you can expect with ARK Business Systems:
Experienced RFID Software Development Team
Project Management Team
Service / Support
No matter what your project consists of, we are here to have a conversation to see what we can make possible to meet your needs. Software can make your business more efficient, so now is the time to consider an investment into a system that can be the backbone of your asset tracking and management needs.
Experience for yourself the ARK Advantage.
Schedule a Discovery Call to see if a custom or customized solution would work for your business.
Related Articles: