Healthcare asset tracking software can help you manage, track, and control your hospital equipment. In healthcare, your vital assets can be the difference between life and death. Having the proper biomedical equipment calibrated and in the right location allows the hospital staff to perform the highest quality of care for the patients.
This article will discuss the benefits of healthcare asset tracking using RFID or barcode technology.
Some benefits you can expect to see:
Routine maintenance schedules for all equipment
Faster, more efficient inventory audits
Tracking movement and accountability of hospital equipment
Let's dive into the details.

Routine Maintenance of Hospital Equipment with RFID Hospital Equipment Tracking
One of the most important benefits of medical asset management software is the maintenance scheduling of hospital equipment.
Why?
It's simple. If your equipment is unable to perform at times you need it the most, your patient care is going to suffer. Biomedical equipment is extremely important to patient care by having the right equipment at the right times.
Preventative maintenance is a key practice in fixed asset management and by using a routine maintenance schedule, you can easily keep track of when and who performs the maintenance. This practice allows you to keep your equipment up and running so you can be proactive against the unexpected malfunction of equipment.
A routine maintenance schedule can also be used to schedule the very important calibrations of hospital equipment. By using a healthcare asset tracking software you can schedule calibration to be done weekly, monthly, or yearly so you never forget.
Using RFID with Healthcare Asset Tracking Software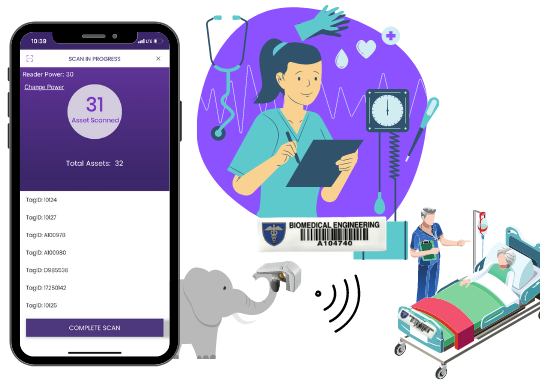 Can you imagine taking an inventory of a patient's room without disturbing the patient? With RFID hospital equipment tracking, this is now possible. Assets that are tagged with a passive UHF RFID tag can be scanned from a distance and do not need a line of sight to read them.
What this means…
You can walk into a patient's room with an RFID handheld reader and complete an inventory scan in seconds without even seeing the RFID tag.
Performing a fixed asset inventory will do two things:
Provide you with an inventory audit of equipment that is found, missing, or misplaced.
Make sure you have the necessary equipment in the proper location
Plus, using the Grey Trunk RFID locate feature, if there is a specific piece of hospital equipment you are searching for, you can utilize RFID to help you locate the device. Take a look at this video to show you this works.
Tracking Hospital Equipment
With a check-in / check-out asset tracking system, you can easily record when an asset leaves the facility giving you an accurate count of how many assets you have available at specific locations throughout your entire organization.
Having this information readily available allows you to reach out to the people responsible for the devices to make sure they are returned in proper working condition.
Knowing when the hospital equipment leaves a specific location and who it is assigned to gives you an overview of all the moving assets within the hospital. This will help you to hold hospital staff accountable for any asset that needs to be returned to its home location through the power of RFID hospital equipment tracking.
Summary of Healthcare Asset Tracking Software
Using healthcare asset tracking software gives you the ultimate management tool for your hospital equipment. Easily schedule preventative and routine maintenance, track equipment location, and perform asset inventories more efficiently so you know exactly how many assets you have.
To start your 30 Day Free Trial, visit www.greytrunkrfid.com to create your account today.
Want to see a demo? Schedule one with us today.
If you want to see an overview of how an asset management system could work, check out this video.
Related Articles: